We are probably all motivated to give at some point. The Salvation Army kettle beckons to us at Christmas, as does the hopeful child sitting at a lemonade stand on a hot summer day. Those are worthy causes that can make a difference - today.
Our donors recognize that giving to the MCCF helps ensure that the causes they care about will receive support today - and tomorrow. The funds that so many donors have entrusted to us will continue to give beyond their lifetime, and those funds will still be helping our friends and neighbors here in Montgomery County for generations to come.
Our donors are amazing, supportive, and incredibly generous. We are forever grateful to our donors for placing their gifts, and their trust, in us. We are honored to partner with each one as together we strive to make our community a better place to live and work.
Featured Story: Honoring and Remembering Cole Petty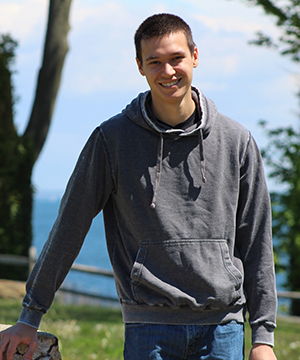 The sum of a life is never as simple and fixed as 2 + 2 = 4. There are too many variables, too many factors to consider that are all part of the whole. Descriptive words and phrases can never truly reflect the priceless worth and significance of a life. The following is just a glimpse into the treasured life of Cole Petty, a young man who was, and still is, loved by many.
Cole possessed a passion for the outdoors and loved hunting and fishing. Fearless around anything that slithered or walked on four legs, he held a deep affection for all wildlife and soaked up all that nature offered. Cole was one of those rare individuals who knew how to enjoy the moment, never appearing to be in a hurry to get to the next one. His sense of humor was contagious, eliciting smiles and laughter from those in his presence. Cole had a tender, sensitive soul and cared deeply for his loved ones and friends.
Dedication and commitment would also be descriptive of Cole. Upon graduation from Southmont High School, Cole went on to study at the Purdue University School of Agriculture, where he was on track to receive his degree in Animal Science. Additionally, he graduated from the United States Marine Corp Officer Candidate School in 2017, an arduous, grueling program. Cole was set to commission as an officer in the Marines after his college graduation.
What comes next might not seem to "fit" the person described above. You might think that someone like Cole would not take his own life - but he did, and his suicide is also part of the whole. His parents, Bret and Lisa Petty, have courageously chosen to be open about the manner of Cole's death, hoping it will lead to conversations about awareness and prevention where possible. They never had the slightest suspicion that Cole would have even considered, let alone attempted, suicide. Learning more than they ever wanted to know, Bret and Lisa now desire to effect change on the stigma associated with suicide.
Cole fought the dragon of depression, which has been likened to a cyclical prison cell. It has many causes, but regardless of the cause, depression always centers on death and pain. Insecurities and feelings of inadequacy swell along with depression, while hope and confidence evaporate. Cole hid his depression from his loved ones because he didn't want them to worry. Depression clouded his vision, throwing a murky shadow over the value of his life and preventing him from understanding just how much he was loved. His battle with depression ended on February 23, 2018 at the age of 22.
But Cole's loved ones would want you to remember all the parts that made up his life, rather than focus on his death. So in memory of their beloved son, Bret and Lisa established the Cole Petty Scholarship Fund. This fund is for graduates of Southmont High School - a place where Cole blossomed and found his niche. He once said of Southmont, "I now go to the best school on earth" and his parents felt this is something that would truly honor him. It is forever a reminder and reflection of Cole's willingness to help others.
There is one more addition to this story, and it brought comfort and healing to Cole's family. Cole received his BS degree in Animal Science, Posthumous at the August commencement ceremony at Purdue University. This degree is of tremendous worth to Cole's family as it validates all his hard work and accomplishments. Cole's older brother, Graham, also a Purdue graduate, proudly walked the stage for Cole to accept his diploma. There were tears, but also joy, and Cole would have relished the moment.