"Farmers do more than feed, fuel and clothe the world. They are the life blood of rural communities, supporting the local economy and giving back to the community wherever possible." – Monsanto

As banks began to consolidate in 2000-01, we became successor trustee of three local farms. Over the last several years, the Montgomery County Community Foundation has worked diligently to maintain and improve these farms. Our farm manager assists us in managing and providing oversight, and our Board of Directors participate in regular site visits of our farms.

Owning this farmland fits well within the Foundation's mission to better our community as our community is very focused and dependent upon agriculture. Farmers want to see a better life for generations to come and they work hard to ensure that will happen. We do too. Understanding that we are also stewards of the gifts entrusted to us is at the center of everything we do. We take that role very seriously as we honor the charitable desires of our donors – both living and those who have left their intentions in a bequest. Our flexibility allows us to help guide our donors to support the charitable causes they care about.
As we continue to maintain ethical stewardship of the multiple farms that have been gifted to the Foundation, they continue to yield a harvest far beyond the bushels of corn and beans. From sending students to college…. providing medical care for the needy…. and nearly every charitable cause in between, these farms continue to give in every season.
The Clark Farm
This 130-acre farm is in the southern part of our county. The Fred L. and Ina Clark Scholarship Fund provides renewable four-year scholarships to graduating seniors of Montgomery County high schools. Thus far, this fund has provided over $776,000 in scholarships to our county's greatest asset – our children.
The Hulet Farm
This 233-acre farm is in the northern part of our county. The Walter Hulet Fund is an unrestricted fund that provides support for charitable and benevolent purposes throughout our county. To date, this fund has provided over $1,100,000 in grant awards that has touched nearly every area of need in our community.
The Schenck Farm
This 242-acre farm is situated in the center of our community. The Faye O. and Anna Winter Schenck Fund provides support for medical care for the needy in our community. This fund has awarded over $788,000 in grants.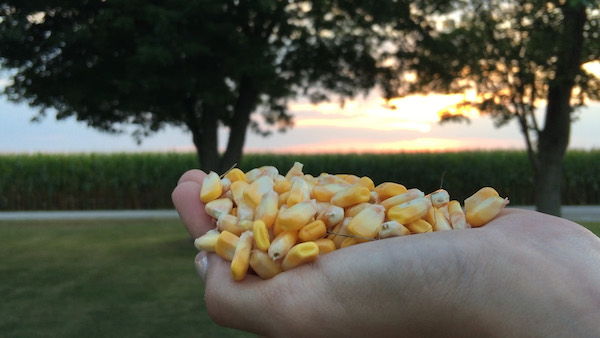 Gifts of Grain
Your crops are your livelihood, your life. You prepare, you plant, you nurture and it grows. And that's what we do with the charitable gifts entrusted to the Foundation.
Donating a gift of grain to the Foundation is a simple way to make a lasting difference. The value of the grain can be used to start an endowed fund in the name of your family for a specific local nonprofit organization important to you. Your gift of grain can also be given to any of our established funds, which are used to support many worthy charitable causes in Montgomery County.
The process is simple and we are ready to help. Just let us know of your intended gift of grain and we will set up an account at the elevator. When you deliver the grain, simply transfer the grain as a gift to the Foundation. We will provide you with a donation receipt for your gift. We will then sell the grain and receive the sale proceeds. For your convenience, please click here for the Gift of Grain form.

It's that simple!