Road Trip!
Published: January 3, 2013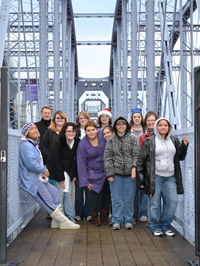 Early on the cold, frosty morning of December 15th, members of the Athenas Club took a road trip to Cincinnati, which was sponsored by yet another Community Engagement Board grant. Board member Steve McLaughlin directed half of his $1,000 grant for this trip, with the other half directed to the Man Up program at Tuttle Middle School. Steve strongly believes in the positive impact of these programs which address youth development.
The group of Athenas, pictured here posing at the Purple People Bridge over the Ohio River, enjoyed touring the Natural History Museum as well as other historic landmarks. The Man Up program for eighth grade boys provides guidance on how to make choices that will help them become mature and responsible citizens.