One Picture Becomes One Thousand Dollars!
Published: December 5, 2012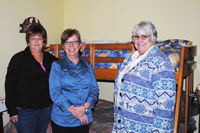 MCCF Board Member, Sharon O'Dell Keedy saw a photo in our local paper of a young mother and her newborn son who were living at Pam's Promise, a local transitional housing shelter, and her heart was moved to action. Sharon directed her $1,000 Community Engagement Grant to Pam's Promise and Executive Director, Cheryl Farr, was delighted to purchase a new bunk bed and a clothes dryer with the grant.
Having the additional sleeping space will allow Pam's Promise to accomodate more people comfortably; and a more efficient clothes dryer will help save on the electric bill. Pam's Promise has two homes and currently house a total of seven adults and five children. Residents receive counseling and education, have household responsibilities, and if employed, are required to pay a portion of their wages towards the rent. All important steps in their journey to becoming self-sufficent.