New Fund supports the Sunshine Vans
Published: May 22, 2018
A perfect chain of events resulted in long-term financial support for the Sunshine Vans program, which is operated through the Crawfordsville Parks & Recreation. The first link in this chain is Hoosier Heartland State Bank when they created a Shared Values Award event, designed to support local nonprofits and highlight the important work they do in our community. A component of this event are the Mission, Vision and Values Awards, given to employees recognized for their commitment to these shared values. Peers vote on employees who best exemplify these values and then the winners choose a local nonprofit to receive the monetary award. Sandy Webb was the winner of the Mission Award, and she became the next link in the chain.
Sandy has worked for HHSB for 22 years and considered it a great privilege and honor to win the award; she immediately started researching local nonprofits. Sandy said it was a daunting task to choose just one but eventually she chose the Sunshine Vans program. She was impressed with their mission of providing transportation for the elderly and disabled in our community. Whether it be for doctor appointments, pharmacy runs, banking needs, or dialysis treatments, these vans are there five days a week to assist. They are also the only provider that is wheelchair accessible in the county, making their service even more valuable. Sandy was excited to direct the $5,000 award to the Sunshine Vans. Brenda Tarter, Senior Program Director, and the next link in this chain, was even more excited to receive it.
When you operate a fleet of 12 vans that make approximately 80 trips a day, you are in a constant cycle of maintenance, repairs, and eventually, replacement. Those who ride the vans are not required to pay for the service, yet the wear and tear on the vans is a constant financial consideration. Brenda's first thought was to use the money for immediate needs, however, with this award, they had the full amount to establish an endowed fund with the Montgomery County Community Foundation. She and Fawn Johnson, Director of the Parks & Recreation, went to their Board for approval, which they received – and the links in the chain grew and were now complete. The Sunshine Vans Fund is now an established fund at the MCCF and will provide long-term support for this vital program.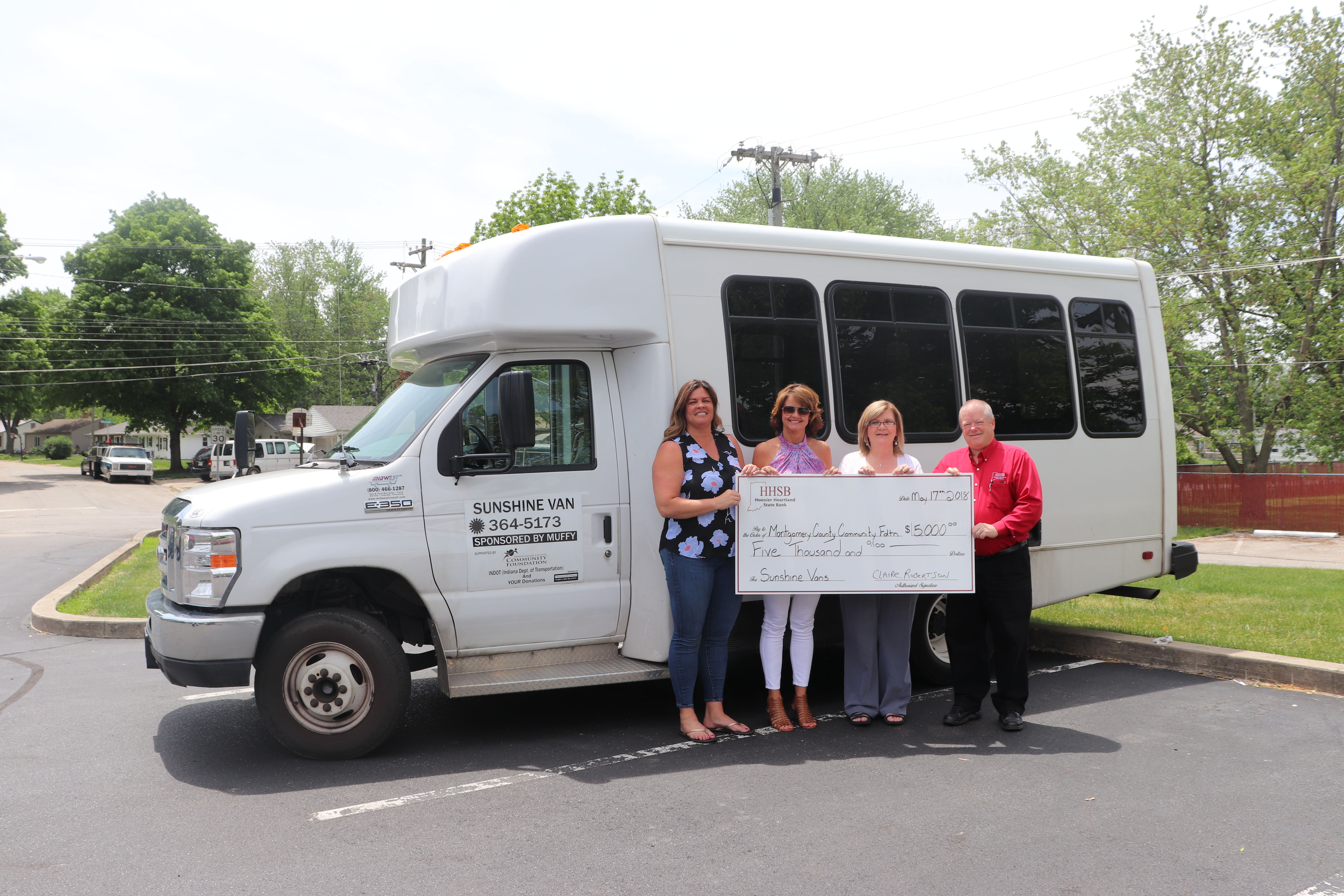 "HHSB is a valuable community partner to the MCCF, and many other nonprofits in Montgomery County, as they contribute financially and through voluntary service," stated Kelly Taylor, MCCF Executive Director. "We are thankful for their support in starting this new fund to sustain the Sunshine Vans for many years in the future." Anyone can donate to this endowed fund, or any of our endowed funds, at any time.