MCCF Recipient of Early Years Initiative
The Montgomery County Community Foundation (MCCF) is proud to announce that it has been selected as a recipient of the Early Years Initiative from Early Learning Indiana. The Early Years Initiative is a $50-million competitive grant program focused on enhancing the learning and development of infants and toddlers in Indiana communities. The generous support for this initiative comes from Lilly Endowment Inc.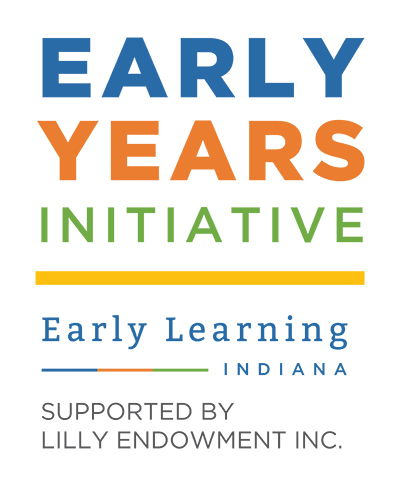 Through this grant, MCCF will receive $374,200 in funding to increase professional development opportunities for local child care programs and partner with the City of Crawfordsville to expand the Project Swaddle and Project Bundle programs. The Early Years Initiative places special emphasis on serving families in low-income households.
Project Swaddle and Project Bundle are home-visiting programs operated by the Crawfordsville Fire Department to improve maternal and infant health outcomes. Using community paramedics and registered nurses as physician extenders, the programs provide wrap-around care for perinatal mothers, infants, and their families who face health, social, and environmental challenges.
Mayor Todd Barton was excited to learn about funding for the expansion. "Project Swaddle and Project Bundle have proven highly effective, and have had an immeasurable impact that will be felt in the lives of those served for decades to come," he said. "The ability to further enhance these programs is a tremendous win for families in our community."
Another key component of the grant is professional development for local child care programs. In 2022, MCCF launched professional development workshops for early childhood educators and with this grant the workshops will provide focused training for educators serving children ages infant to three. This initiative aligns with the mission of the Montgomery County Early Childhood Coalition, a leadership initiative of MCCF, which is to create a collaborative and high quality early childhood education system that supports development and early education.
"Early childhood education and ensuring the youngest members of our community get a great start in the early years is key to building a stronger, more vibrant Montgomery County. With this grant funding, we will be able to serve children, their families and early childhood educators to build that critical early foundation for lifelong learning," said Kelly Taylor, CEO of the Montgomery County Community Foundation.
"We only have a few short years to set our youngest Hoosiers on a path to thrive in life, and the work of our grantees across the state will enable us to make the most of these years while deepening our understanding about which efforts are most effective," said Early Learning Indiana President and CEO Maureen Weber.
About the Montgomery County Community Foundation
MCCF manages more than 240 endowed funds, each established by donors with the desire to make Montgomery County a better place to live. In addition, MCCF strives to be a partner in community projects and initiatives through grant making and other funding opportunities. Since 1991, more than $27 million in grants and scholarships has been awarded to agencies and students in Montgomery County.
About Early Learning Indiana
Early Learning Indiana is an expert and trusted voice on early childhood education that works statewide to provide leadership, advocacy and early childhood education services that continually improve the early learning landscape in Indiana. Early Learning Indiana operates 11 nationally accredited, high-quality Day Early Learning centers, a network of premier community-based centers used to advance the science of early learning, train the next generation of teachers and leaders, and instill knowledge and skills in the children we serve. Through regional and statewide programs, the organization works to ensure young children are empowered with essential skills to thrive in kindergarten and beyond. Learn more at EarlyLearningIN.org.
About Lilly Endowment Inc.
Lilly Endowment Inc. is an Indianapolis-based private philanthropic foundation created in 1937 by J. K. Lilly and his sons, Eli and J.K. Jr., through gifts of stock in their pharmaceutical business, Eli Lilly and Company. While those gifts remain the financial bedrock of the Endowment, the Endowment is a separate entity from the company, with a distinct governing board, staff and location. In keeping with its founders' wishes, the Endowment supports the causes of community development, education and religion. Although the Endowment funds programs throughout the United States, especially in the field of religion, it maintains a special commitment to its founders' hometown, Indianapolis, and home state, Indiana.