MCCF Receives Accreditation from National Standards for US Community Foundations
Published: February 8, 2017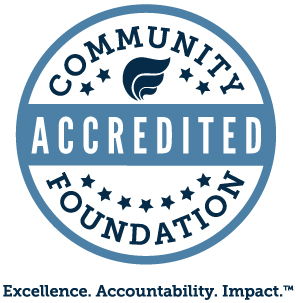 The Montgomery County Community Foundation recently received accreditation with the nation's highest standard for philanthropic excellence. National Standards for U.S. Community Foundations® establish legal, ethical, effective practices for community foundations everywhere.
"Meeting the National Standards benchmarks is a rigorous, comprehensive process," said Randy Royster, Chair of the Community Foundations National Standards Board. "This accreditation is a significant accomplishment that indicates the Montgomery County Community Foundation demonstrates a commitment to transparency, quality, integrity and accountability as it carries out its mission." The National Standards for U.S. Community Foundations® program requires community foundations to document their policies for donor services, investments, grantmaking and administration. With over 500 community foundations already accredited nationwide, the program is designed to provide quality assurance to donors, as well as to their legal and financial advisors.
MCCF has given over $18 million in grants and scholarships back to the Montgomery County community since its inception in 1991. Many local non-profit agencies have achieved their goals within the community with the help of grants, and countless students have furthered their educations through the aid of scholarships.Thanks to donors, fund owners, and other supporters that have been incredibly generous, MCCF has been able to contribute to a variety of causes related to education, arts and culture, health and human services, historical preservation, community development, and youth in Montgomery County.
The foundation offers a range of charitable funds, allowing donors to advance a cause, support an individual organization, provide flexible support for community needs or recommend individual grants. In addition to affirming the organization's philanthropic services, the accreditation validates the Montgomery County Community Foundation's grantmaking practices for the nonprofit community.
National Standards for U.S. Community Foundations® is the first program of its kind for charitable foundations in the United States. The Community Foundations National Standards Board is a supporting organization of the Council on Foundations and is responsible for the quality, value and integrity of compliance with National Standards. For more information on the National Standards Board, visit its website at www.cfstandards.org.