MCCF Hosts Dedication for Newly-Activated Alley
The Montgomery County Community Foundation (MCCF), in partnership with the City of Crawfordsville, celebrated the dedication of a newly-activated alley in downtown Crawfordsville on August 18. The alley, located between the MCCF office and Milligan's Flowers and Gifts on East Main Street, has already become a popular gathering spot for the community.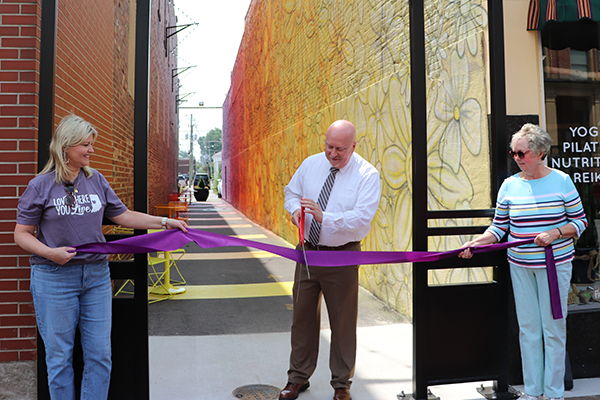 Kelly Taylor, MCCF CEO, welcomed the crowd and explained more about the initial project. In 2018, Peter Kageyama, author of "Love Where You Live: Creating Emotionally Engaging Places" visited Crawfordsville and facilitated a workshop where attendees brainstormed ideas for new attractions in the community. One of the winning ideas was "Alley Art," which included the addition of a new mural, as well as lighting and seating.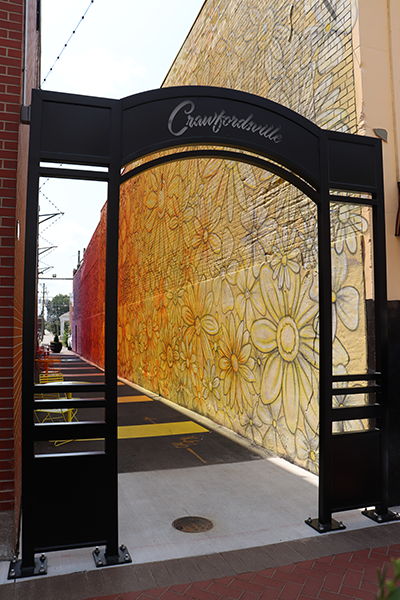 The idea was still in the planning stages when funding for public art in a 10-county region became available through the Wabash Heartland Innovation Network. This grant, along with support from the Tippecanoe Arts Federation and MCCF brought New York muralist Jenna Morello to Crawfordsville.
Morello worked for a week in September 2021 to complete the 144 foot long mural that features a variety of flowers and a gradient color scheme. After it was finished, the City of Crawfordsville committed funding to "activate" the space and add lighting and seating, as originally envisioned.
Crawfordsville Mayor Todd Barton explained the need for public art and meeting spaces for the community to utilize; it is his hope that there will be more projects like this in the future around the city. During the dedication, a new bench was also unveiled honoring Dale Milligan, the original owner of Milligan's Flowers and Gifts. Milligan, a long-time business owner and active community member, passed earlier this summer.
Friends and family donated the bench, which encourages visitors to "Rest, reflect, and enjoy our beautiful community"- a perfect sentiment for this beautiful new addition to historic downtown Crawfordsville.