MCCF Grant Supports Camp MoCoRoBo
Published: May 30, 2018
Each year select Montgomery County Community Foundation board members have the opportunity to direct a $1,000 Community Engagement Grant to the nonprofit organization of their choice. Sheridan Hadley directed such a grant to the Montgomery County Leadership Academy to support Camp MoCoRobo. A retired school administrator and member of the Mayor's Workforce Roundtable, Hadley understands that early exposure to STEM (Science, Technology, Engineering, and Math) activities is important in generating interest in advanced manufacturing careers in our community. Each high school in the county has a Robotics program, but recognizing that earlier exposure would be beneficial, Camp MoCoRobo was created for middle school youth. The curriculum provides students with leadership and workforce readiness "soft skills" education as well as exposure to career opportunities within the field of advanced manufacturing.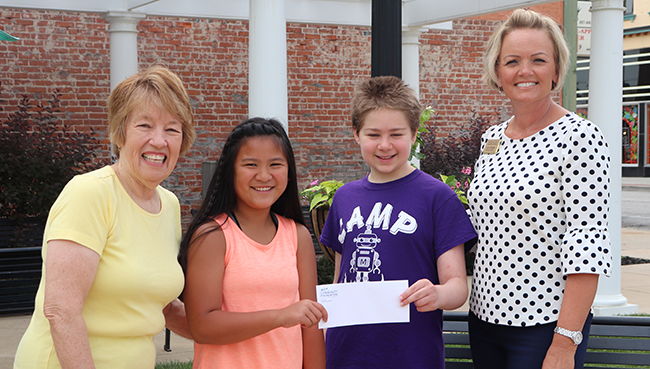 This grant will help purchase Lego Robotics kits and supplementary materials, and provide some scholarships. Teachers for the camp are Lisa Hoagland and Karen Thada. Two sessions of the four-day camp are planned, the first is July 23-26, the second is July 30 – August 2, and there are currently openings in each. Each is from 9:00 a.m. to 3:00 p.m. at Ivy Tech Community College, 2325 Phil Ward Blvd., Crawfordsville. Twelve-year-old Layne VanSiegel attended the camp last summer. He explained that campers work in pairs to build the robots. Each pair is assigned a specific challenge their robot must accomplish. Lynn Ringis, Executive Director of MCLA, explained that they also work in larger groups for other activities, to reinforce teamwork skills. Lillie Taylor, age 11, will attend the camp for her first time this summer. She said that she has never built a robot before, but she has had some experience with coding that she knows will be helpful.
The camp is open to middle school students in Montgomery County, including home-schooled children. The cost is $25, and some scholarships are available. For an application and more information, contact Sheridan Hadley at Sheridan.Hadley@gmail.com or call her at 765-362-0599.
MCCF manages over 200 endowed funds, each established by donors with visions of making Montgomery County a better place to live. Since 1991, more than $19 million in grants and scholarships have been awarded to agencies and students right here in Montgomery County. For more information about the foundation, call 765-362-1267, visit our website, or find us on Facebook, Twitter and Instagram.