MCCF Awards Over $330,000 to Nonprofits
The Montgomery County Community Foundation was pleased to announce awards for the second and final grant cycle of 2022 at a gathering on November 29 at the MCCF office. We were joined by numerous nonprofit representatives as fourteen awards were made, totaling $330,770! Continue reading below for more information on each one.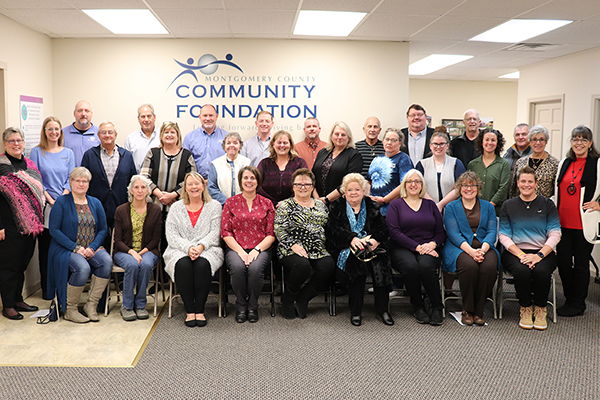 Early Childhood Education
Fuzzy Bear Preschool and Daycare, $23,410

Striving to create a safe and healthy building for children and staff, the funds will be used for a variety of building improvements such as new staff restroom upstairs, a screened in porch, painting, new ceiling fans, and more.
New Beginnings Child Care, $80,080

This award will provide transition support as they move from being a ministry affiliated with a church, to a nonprofit entity of their own. This process brings many adjustments and changes. Right-sizing the staff will allow them, the largest childcare provider in the county, to function more effectively and efficiently.
Wilson Preschool, Crawfordsville School Corp., $11,000

A preschool climbing wall will be installed in the school's gymnasium. Climbing wall activities promote gross motor development, and are associated with a greater likelihood of success in academics and in social/emotional development. It will also provide a fun indoor activity when outdoor recess isn't possible.
Education
North Montgomery School Corporation, $16,700
Detect, Deter, Intervene, and Educate. This is the approach the corporation is taking on vaping. Funds will be used to purchase and install vape detectors at North Montgomery Middle School. Along with preventative education, an intervention course has been developed for those found to be vaping.
Montgomery County Educational Foundation, $25,000
MCEF offers grants to local teachers. Teachers may apply for grants to support enrichment projects and activities that aren't otherwise funded by the school budget. Awards are made in all areas, STEM (Science, Technology, Engineering and Math), the arts, speech, language, and more.
Health
Crawfordsville Community School Corporation, $10,000
Funds will be used for the Health & Welfare of students corporation-wide who need financial assistance with expenses for eye exams, glasses, dental care, medications, and mental health assessments. Funds are also used for CPR training and supplies, and various student health education.
History, Arts, & Culture
Athens Arts Gallery, $8,100

Athens will host a National Juried Exhibition in the summer/fall of 2023. This will be their sixth Salon and third Juried National Exhibition. In an excerpt from their request, Athens states, "the experience of art is why cities are loved not just lived in. A loved city is supported by its citizens."
Carnegie Museum of Montgomery County, $10,500
This storytelling grant will include the nationally renowned traveling exhibit, The Amazing Castle. Additional programming, such as professional storytellers and a theater workshop will complement the exhibit.
Human Services
Dusk to Dawn Bereavement, $16,145
Education and Counseling: Building a Stronger Healthier Community is the theme for their 10th Anniversary Celebration. A variety of events geared to bereavement and mental health will take place throughout the year. Look for the calendar of events early next year.
Food Finders Food Bank, $5,000
According to Feeding America's Map the Meal Gap study, Montgomery County's food insecurity rate is 11.5%. Over half don't quality for SNAP meaning they rely on the charitable food sources. These funds will help support three Mobile Food Pantries in Montgomery County in 2023.
Grace and Mercy Food Pantry, $50,000
Since early 2021, the number of families being served each month has doubled. These funds will be used to purchase a sprinter-type van to pick up food from their various suppliers, such as Walmart, Food Finders, and Caito's. Any excess funds will be used to buy additional food.
Women's Resource Center, $7,000
Funds will be used for medical services and for items for the Great Expectation's educational program. WRC provides an invaluable link to the local health care system.
Youth
Boys & Girls Club, $32,500
Twenty-two years of serving children and their families has taken a toll on the club's flooring. Funds will be used to install new LVT flooring throughout the building, except for the gymnasium and the multipurpose room.
Montgomery County 4-H, $35,335
4-H building improvements and equipment will allow the facility to better accommodate educational programs for youth and for the community. Safety accommodations for the new range hood will be made and new audio visual equipment and an ice machine will be purchased.
The grants were made possible by the following MCCF Field of Interest Funds:
Marian J. Morrison Fund
Women of Wisdom Fund, Yesterday, Today and Tomorrow: honoring Rev. Chris Hotopp-Zachary, Mary Vi Leaming RN and Meda Lorton
A. F. Ramsey Fund
Herman Dicks Fund
Duke Energy Pass-through Fund
Maude Dockins Trust Fund
Faye O. and Anna Winter Schenck Fund
And from these MCCF Unrestricted Funds:
Samuel L. and Eva Fern Boots Fund
Community Fund
Tony and Cindy Cosenza Fund
Tom and Dolores Crews Fund
Dr. Fred and Elizabeth Daugherty Trust Fund
Irwin Lee Detchon Fund
Maude Dockins Fund
First Merchants Charitable Foundation Fund
Barbara and Larry Frye Fund
Thomas and Mary Beth Harmon Fund
Carl F. and Margaret Henthorn Fund
Dennis and Dee Hohlbein Fund
Larry D. Servies and Wanda R. Hopkins Fund
Hoosier Heartland State Bank Fund
Walter Hulet Fund
Max W. Johnson Fund to honor Mary Francis "Fran" Johnson
Hubert and Martha Massing Fund
Nucor Fund
Gloria and Marvin Oliver Fund
Morris and Barbara Odle Family Fund
James G. and Susan Smith Fund
Kathleen and John Steele Fund
Max K. Tannenbaum Trust Fund
John T. Taylor Charitable Fund
Leonard and Louise Winchell Fund
Damon C. and Bernice Seaman Wray Fund
Roland Brooks and Helen Johnson Wynne Fund