MCCF Awards Over $144,000 in First Round of Grants
The Montgomery County Community Foundation (MCCF) gathered Wednesday afternoon to award $144,294 to nine grant recipients in the first grant cycle of 2022. MCCF Chief Executive Officer, Kelly Taylor welcomed everyone and thanked the nonprofit leaders for the work they do in our community. Fund owners in attendance were also thanked and recognized, for without fund owners, the grants would not be possible.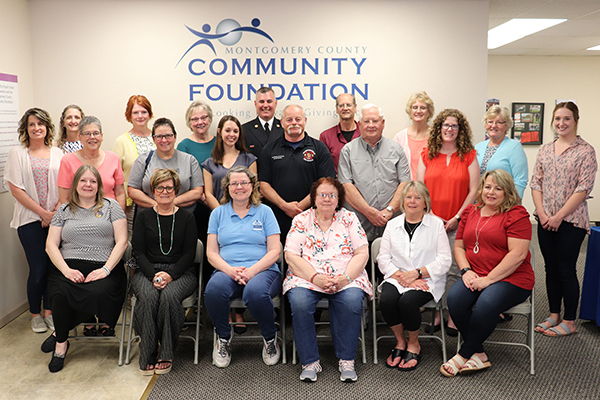 Listed by Area of Interest, the following grants were awarded:

EARLY CHILDHOOD EDUCATION:
New Hope Preschool, $9,561 - Using a portion of their Build Learn Grow fund, New Hope Preschool will replace their aging play structure. These funds will be used to add a tricycle path around the new centerpiece structure, along with tricycles, a sand and water table and an equipment storage cart.
COMMUNITY DEVELOPMENT:
Animal Welfare League, $8,920 - The Funds will be used to replace damaged kennel gates and locks, replace the water softener, and purchase two micro chip scanners for the Animal Control Officer's vehicles.
Crawfordsville Masonic Temple Foundation, $40,000 - Examples of neo-classical architecture such as this local structure, constructed in 1901, are rapidly disappearing. In an effort to prevent this from happening here, these funds will be used to restore 87 exterior windows in the Masonic Temple. With these and other planned restoration and repair efforts, the historic building will continue to serve our community for many years to come.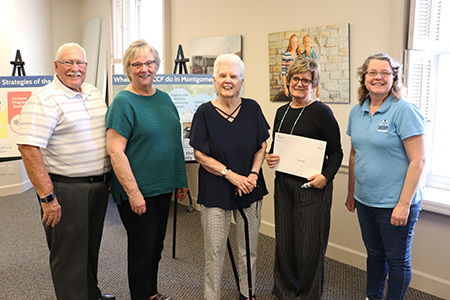 Walnut Township Community Organization, $5,149 - This all volunteer organization takes on many community events for the town of New Ross and surrounding area such as an annual Valentine's Dance, Easter Egg Hunt, Hometown Fish Fry, Community Day, Candy Corn Carnival, and the Jingle Bell Jamboree. Events require a lot of supplies and props, which need to be stored from year to year. These funds will be used to purchase and install a new storage barn for this purpose.
HEALTH:
Crawfordsville Fire Dept., $7,664 - Project Swaddle connects paramedics with at-risk mothers and their babies to provide quality care through OB physician extension and social services during the pregnancy and post-partum. These funds will be used to purchase a variety of baby-care items for mothers targeted at health and safety, such as cabinet locks, outlet covers, stove knob covers, baby monitors, pacifiers, thermometers, etc. Last year 40 mothers and 33 babies were served.
Montgomery County Free Clinic, $50,000 - The Dr. Mary Ludwig Clinic offers high quality medical and dental care and preventative health services to those who lack health insurance, and would otherwise go without basic health care. The funds will be used to hire an Executive Director to ensure the continued growth and sustainability of the organization.
North Montgomery School Corporation, $15,575 - A portion of the funds will be used for the medical, dental, vision, and mental health needs of students in need as well as new AED equipment. In addition, HALO vape and aggression detectors which alert administrators immediately to these behaviors will be purchased and installed in rest rooms as a way of deterring these harmful activities.
HISTORY, ARTS, AND CULTURE:
Art League of Montgomery County, $2,425 - The art league owns several paintings by local artists from the late 1800's. The paintings are in need of restoration and repair. These funds will cover the cost of cleaning and repair of seven paintings. Once cleaned and repaired, they will be on display at the Crawfordsville District Public Library for everyone to see and appreciate.
Lew Wallace Study Preservation Society, $5,000 - The Carriage House, part of the National Landmarks site, serves many critical needs for the Lew Wallace Museum. The building is showing signs of deterioration. In order to determine a plan for restoration and rehabilitation, a full architectural and engineering study is needed. These funds will leverage the LWPS's own dollars along with a grant from Indiana Landmarks.

The following MCCF Unrestricted and Field of Interest Funds made these grants possible:
Paul and Heather Barajas Fund

Community Fund

Hank and Nancy Coyle Fund

John and Betty Culley Fund

Irwin Lee Detchon Fund

Ron and Trudy Dickerson Fund

Earl F. and Ruby B. Elliott Fund

Leland and Dolores Epperson & Family Fund
Larry and Susan Griffith Fund

Jack and Joyce Grimble Fund

M. Gaildene and Stan Hamilton Fund

Roberta Hudson Fund

Brian and Cheryl Keim Family Fund

Drs. Paul and Mary Ludwig Fund

Amy McFerran Fund

Paul and Irmingard McKinney Fund

Phil and Judy Michal Fund

Herbert, Genevieve and Marian Morrison Fund

Dale and Linda Petrie Fund

Torey and Bethany Rauch Fund

Faye O. and Anna Winter Schenck Fund

Joseph D. Smith Fund
MCCF manages over 240 endowed funds, each established by donors with visions of making Montgomery County a better place to live. Since 1991, over $25 million in grants and scholarships has been awarded to agencies and students right here in Montgomery County.
A second opportunity for grants will take place this fall. Click here to review the eligibility guidelines and learn about the application process. Questions may also be directed to Cheryl Keim, Grants & Community Relations Director at 765-362-1267 or cheryl@mccf-in.org.