MCCF Awards First Round of 2021 Grants
Published: June 18, 2021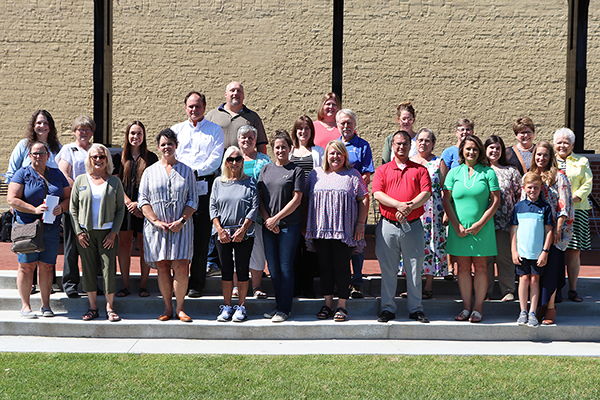 MCCF and the Montgomery County United Fund (MCUF) gathered Thursday afternoon at Fusion 54 to award their respective grants. MCCF CEO Kelly Taylor explained that after pivoting last year as the pandemic hit, the MCCF board remained mindful of the pandemic's impact on nonprofits and continued to offer COVID-19 Operating Support opportunities along with the usual unrestricted grantmaking. Three requests were received for COVID-19 Operating. As reviews were taking place, Montgomery County United Fund learned it would receive funds from Lilly Endowment, Inc. and IN United Way for additional Emergency Relief Initiative Grants, as happened last fall. It seemed only logical that we would again join efforts to address needs in our community.
MCCF grants were awarded to the following organizations:
Community Development:
Animal Welfare League, $31,500 (Irwin Lee Detchon Fund and Community Fund)

The funds will be used to purchase a new vehicle suitable for transporting animals, in all kinds of weather, along with new building security equipment.

Crawfordsville Main Street, $31,750 (Irwin Lee Detchon Fund)

This will support the Community Wayfinding – Signs of Recovery and Welcome project. The sign's design is inspired by the architecture found in the city's Commercial Historic District, which also reflects the character of Montgomery County's outlying towns. When completed, a strategically placed sign family guides both vehicular and pedestrian traffic to cultural, historic, tourism information, and parking destinations.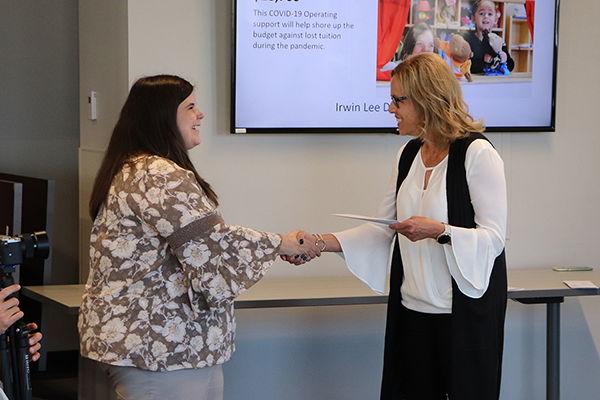 Early Childhood Education:
Fuzzy Bear Preschool and Daycare, $34,050 (Irwin Lee Detchon Fund)

The funds will be used to improve airflow through the building; windows and doors will be added and/or modified. They will level the sloped sanctuary floor to make the space more useful. The facility serves children from age 6 weeks to 12 years and is located in Ladoga.



Rainbows & Rhymes Preschool, $18,760

The funds will help shore up the budget against lost tuition during the pandemic. The preschool was one of two partners in MCCF's Child Care Deserts Grant received from Early Learning Indiana in 2019 and now offers all-day care for preschool age students and has a capacity of 56 seats. The program is housed in the First United Methodist Church.



Hand in Hand Creative Learning, $7,469 (Irwin Lee Detchon Fund and Community Fund)


HHCL was the other MCCF Child Care Deserts Grant partner and established 23 early childhood seats for infants to preschool aged children. The funds will be used for playground improvements to include infant/toddler swings; double paint panel (allows for outdoor art activities, needed to provide regular physical activity, important for physical and mental health as well as social and cognitive development of the children. The program is housed in the First Christian Church, Crawfordsville.


Education:
New Market Elementary PTO/South Montgomery School Corporation, $40,000 (Community Fund)

An outdoor space that combines traditional outdoor fun with experiential learning in the areas of STEAM (Science, Technology, Engineering, Arts and Math) is being created at New Market Elementary School, led by the school's PTO. This grant leverages the aggressive fundraising of the PTO, a school corporation contribution, and in-kind donations by local businesses.


Human Services:
Cummins Behavioral Health Systems, $5,000 (Irwin Lee Detchon Fund)

This will cover the cost of Trust Based Relational Interventions training for two clinicians. The information and skills learned will be integrated into services and community educational programs for traumatized youth.


Health:
North Montgomery School Corporation, $9,885 (Faye O. and Anna Winter Schenck Fund)

This will support the corporation's Student Health & Welfare Fund, a fund that addresses the health needs of students who might otherwise not have access to it. School nurses and counselors typically are the ones to identify student needs and coordinate care for medical care, medications, vision and dental needs, mental health, etc.
Gina Haile, MCUF Executive Director presented three Montgomery County United Fund awards totaling $60,000:

Boys & Girls Club of Montgomery County, $15,000

Funds will be used to support the Indiana Kids Program, an educational enrichment program in math & reading. Due to Covid-19, students have 10 months of learning loss in these areas. This program is equipped to get kids back on track.



Salvation Army of Montgomery County, $15,000

Funds will be used to support the Emergency Assistance Program, which provides financial assistance for struggling and disadvantaged residents of Montgomery County who have urgent needs for help with basic necessities such as food, housing (rent/lodging/mortgage), utility bills, medical/prescription needs, and essential transportation. Request for emergency help with basic needs increased 35% due to the Covid-19 pandemic.



Youth Service Bureau of Montgomery County, $30,000

Funds will be used to support the CASA, JUMP Mentoring, and Alternative School. With increased strain on the educational and mental health needs of our youth during the Covid-19 pandemic, these programs are vital in continuing to provide access to educational opportunities, relationships essential to good mental health and assurance of safe and permanent housing.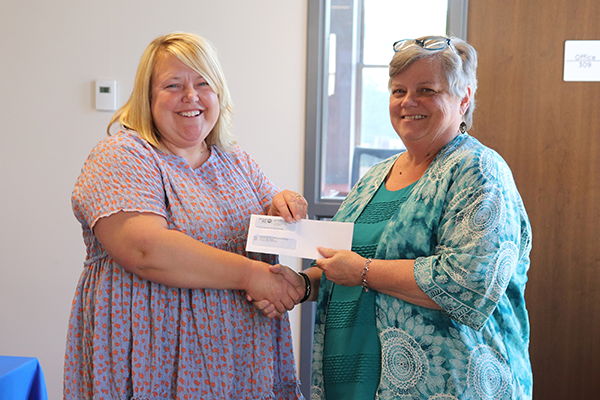 Haile explained that the funding priorities are operational support for health and human services focused nonprofits that provide basic/essential needs such as Healthcare Access and Quality, Education Access and Quality, Social and Community Context, Economic Stability, and Neighborhood and Built Environment. Funds are still available and the grant application can be found here.
Taylor concluded the program by saying, "We are grateful for the partnership that MCUF formed with MCCF to help us address these needs in our community."