Hoosier Heartland State Bank Scholarship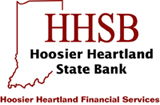 Requirements: 2.5+ GPA, Business, Finance, or Marketing Major
Description:
Established by Hoosier Heartland State Bank, a local community bank, this scholarship recognizes a student who is majoring in business, finance or marketing. The scholarship will provide support toward tuition and fees for one student from each of the public Montgomery County High Schools who will attend an accredited college or university. The scholarship is renewable. Academic achievement, community, school, and volunteer activities will be taken into consideration.
Criteria:
Be a graduate in good standing of a public Montgomery County High School, Montgomery County, Indiana by the end of June of the year in which the application is filed

Be a resident of Montgomery County, Indiana and have lived in Montgomery County for the previous two years

Must have a minimum grade point average of 2.5 based on a 4.0 scale

Good character and excellent citizenship will be taken into consideration

Demonstrates academic preparation and potential for success in college

Must have completed a minimum of seven (7) semesters or ten (10) trimesters by the application deadline to be eligible to apply for the Hoosier Heartland Scholarship

Requirements:
Complete the online MCCF Standard Scholarship application. Check here for updated scholarship application due date and information.

In addition to the standard essay questions, be prepared to write an essay (300 word maximum) addressing the following: "Describe the value a community bank offers to our local community."