Hoosier Heartland Establishes Fund at MCCF
Published: January 3, 2019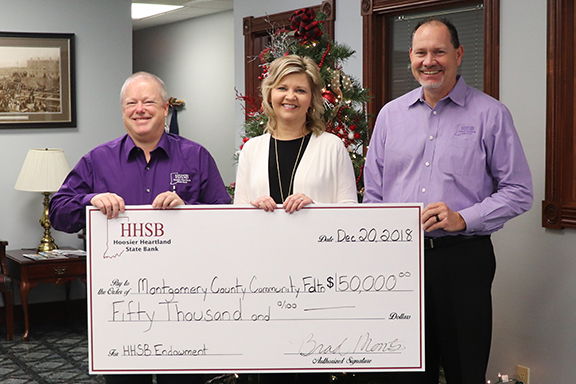 Hoosier Heartland State Bank has a big goal in mind- to become the biggest "giver" to our community. Last week, they moved one step closer to accomplishing this by establishing the Hoosier Heartland State Bank Fund at MCCF!
The recent announcement of the Lilly Endowment GIFT VII Initiative, which provided matching funds for gifts made to MCCF, was the perfect opportunity for HHSB to make an incredible impact. Their initial gift of $50,000 quickly turned into $150,000 thanks to a 2:1 match offered through the initiative.
The newly established unrestricted fund has the flexibility to address needs as they evolve in the community. This means increased opportunities to help local nonprofit organizations continue their missions and projects through grants.
HHSB believes the true message of a community bank is shown through how much is given back to the community. Committed leadership and highly dedicated employees have made this happen and the addition of this endowed fund will help them continue to do so.
MCCF Executive Director Kelly Taylor is shown accepting the contribution from HHSB CEO Trey Etcheson (L) and HHSB President Brad Monts (R)