Community Gathers for Kathy Steele Park Dedication
Published: May 28, 2021
Just over a year ago, the idea to renovate the Kathy Steele Park formed when a Montgomery County Community Foundation (MCCF) donor made a scheduled visit to the Youth Service Bureau. Assuming the adjacent playground belonged to YSB, and noticing its condition, the donor offered to renovate it. Fast forward, and with the City's cooperation, the City owned park was completely renovated, and Saturday rededicated, honoring its namesake, Dr. Kathy Steele, past Superintendent of Crawfordville Community Schools.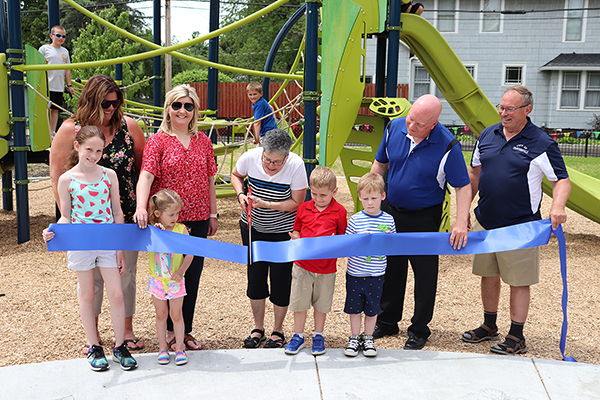 Saturday afternoon, well over two-hundred people gathered for the dedication. Dale Petrie, Special Projects Coordinator, emceed the event and recognized HWC Engineering who designed the park, and Spencer Construction Company, who built the park. Mayor Todd Barton thanked the door (who wishes to remain anonymous) for their generosity, noting the improvement it has brought to the west end neighborhood. Fawn Johnson, Parks & Recreation Dept. Director also thanked the Foundation and the donor, the Mayor for his support and Dale Petrie for the oversight he provided of the project.
Kelly Taylor, MCCF CEO, shared how this project so aptly illustrates the Foundation's mission of "Building Bridges to Support the Future of Montgomery County," by connecting donors' philanthropic goals with needs for the benefit of the community. Taylor shared, "When I reached out to Mayor Barton and Fawn with this idea, they did not hesitate." She also thanked the Youth Service Bureau's Director, Karen Branch and their staff for their cooperation and patience with the construction.

Taylor introduced Dr. Kathy Steele, noting, that as past school superintendent, "she has dedicated her life to educating and caring for our youth." She thanked Kathy and her late husband John for the tremendous support they have given to MCCF both through gifts, and through Kathy's service on the board, which included serving as board president. Taylor shared that "at John's memorial service just last month, the family had created a board with cards listing activities and kind gestures to do and think of John. I took a card that read "Go to the park with someone you love. So as Kathy comes forward, I ask that you visit this park with your loved ones, remember and think of John, a very special person to many of us, as is Kathy."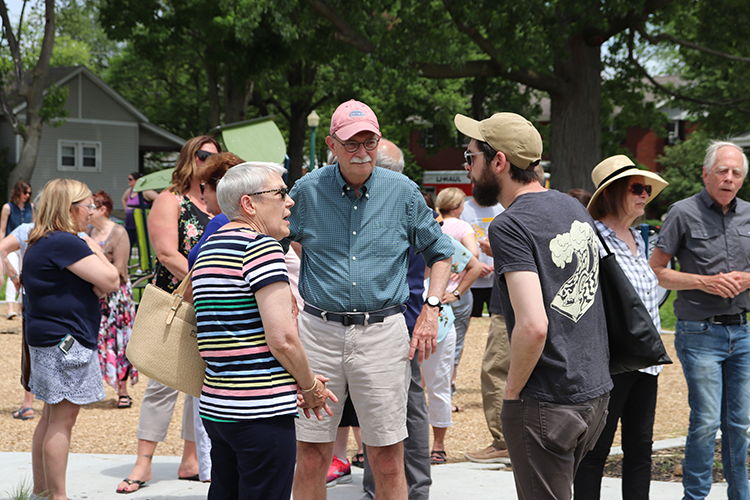 Steele addressed the crowd, many of them her family and dear friends, and thanked the donor and everyone who made the project possible, especially Petrie, who had been school board president during her tenure as superintendent. Petrie in turn, explained Steele's gift of storytelling with items she would pull from a grocery bag. He proceeded to pull a gift from a bag for her, personalized corn hole bags which she can use at the permanent corn hole boards at the park. He guessed she wouldn't use the slide, but she was quick to tell him, she'd already been down it.
In closing, Steele shared the value of surprises, "a part of making other people feel better." Her son Matt, who lives out of state, surprised her by showing up a day early so that he could be with her on her birthday, which was yesterday. Surprises bring joy to others and she challenged us all to surprise others, by sending a card, delivering a loaf of bread or a meal. In closing, she challenged everyone to, "think about something you can do to surprise someone else- it will make their day happier."
For more photos from the dedication, click here.