MCCF Donor to Fund Park Improvements
Published: August 24, 2020
Thanks to the generosity of an anonymous donor working through MCCF, the Kathleen J. Steele Park will be getting a complete makeover in the coming months.
The park, located in the 800 block of West Main Street, is adjacent to the Montgomery County Youth Service Bureau and serves as a popular place for neighborhood residents and patrons of the YSB. It was renamed in 2014 to honor the retirement of longtime Crawfordsville Community School Corporation Superintendent Dr. Kathy Steele.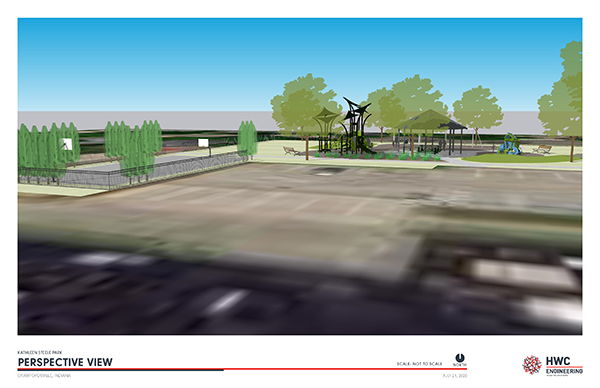 MCCF CEO Kelly Taylor informed the City of Crawfordsville that she had a donor interested in funding a number of improvements to the widely-used space. Taylor, the donor, and Crawfordsville Mayor Todd Barton had preliminary talks just before Covid-19 hit and began to lay the groundwork. HWC Engineering was hired to help move the project forward.
"Plans call for us to install all new playground equipment, a shade structure, decorative fencing and new landscaping," Crawfordsville Park and Recreation Director Fawn Johnson said. "Basically everything will be new and it will make the playground very inviting. It will transform this park into one of the nicest ones we have."
The renovated park will feature activities for all ages, including multiple play structures and green space. An existing basketball court will be moved and redesigned as well.
"It is always rewarding when donors approach the Community Foundation with a vision and trust us to help make it a reality," Taylor said. "This is a wonderful opportunity that will not only benefit the neighborhood, but also the Youth Service Bureau and the many children and families that they serve. We are thankful for this gift and look forward to seeing the renovations begin soon."
The playground was part of Mills Elementary School that closed in 1995. The Crawfordsville Community School Corporation gave the playground to the City and the Montgomery County Youth Service Bureau now occupies the building.
"The Kathy Steele Park has proven to be very popular and well-used by our community," Barton said. "This anonymous gift will allow us to greatly enhance the park to better serve the families of Crawfordsville. The planned upgrades are very robust and I know children and parents will be excited when they see the end product. We are very fortunate that the anonymous donor recognized the value of investing in local families and we are truly grateful for their partnership and generous contribution."
Taylor said preliminary renderings of the park were shared with Dr. Steele and Karen Branch, Director of the Youth Service Bureau, and both have loved what they have seen. Steele wrote in a letter to the donor, "It is a stunning and delightful renovation of the park. Every time I think about this incredible gift, I have tears in my eyes."
The next phase of the project will be to meet with HWC Engineering and bid out the work. It is hopeful work will start in the fall with a completion date in the spring or summer of 2021.