2021 Annual Meeting Highlights
Published: June 25, 2021
MCCF held its Annual Meeting Thursday, June 24 at the Hoosier Heartland State Bank's Success Center. President Joyce Grimble presided over the meeting, beginning with standard items of business and the recognition of outgoing and incoming board members.
Outgoing members were Jessica Bokhart, Scott Feller and Mike Reidy. Bokhart is a past president and served on the Investment Committee, Feller served on the Grants & Distributions Committee, and Reidy served on Grants & Distributions Committee and Scholarship Committee. Each served two, three-year terms and we are grateful for their commitment. Incoming board members are Erin Gobel, Preston Bost, Zach Hockersmith, and Anna Bravo-Moore.

Since 1996, the recognition of outstanding volunteers, both adult and youth, has been a staple of the MCCF Annual Meeting.
The 2021 MCCF Volunteer of the Year was Dr. John Roberts, nominated for his service to the Montgomery County Free Clinic.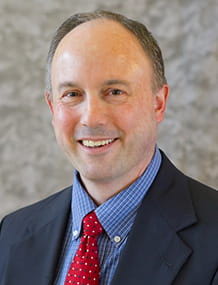 Dr. Roberts was a part of the organization and creation of the MMFC and since 2013 has served as the Medical Director over the Dr. Mary Ludwig Free Clinic. As Medical Director he oversees medical providers, and works in partnership with Dr. Janet Rucker, the Clinic Chief Dental Officer as needed. As time permits, he sees patients, in person and via telehealth, consults with the two Nurse Practitioners who deliver care, and communicates with community physicians on behalf of the Clinic and its patients.
In addition to being knowledgeable about all aspects of healthcare, his work with the Montgomery County Health Department, Wabash College, and the Montgomery County Free Clinic during the pandemic has been truly lifesaving to many. His guidance in keeping Meals on Wheels safe for volunteers and clients was greatly appreciated. Dr. Roberts is exceptionally compassionate and dedicated to the residents of Montgomery County, and to being committed to working for everyone's improved health. He goes above and beyond in researching solutions to various concerns that arise, whether it involves provider issues, patient concerns, or community affairs.
Grimble presented a plaque commemorating his service and a $1,000 grant to the Montgomery County Free Clinic in his honor, to Clinic board members. Roberts was unable to attend in person, but did participate via Zoom and expressed his appreciation to the group.
Other nominees, each having made significant contributions to the organizations they serve, were:
Wanda Bennett, Through the Gate

Wanda has been a faithful volunteer at Through the Gate since 2016. She provides transportation to the women, helping them get to and from appointments. She mentors women, one on one, and shares her love of sewing by teaching the women to sew. She makes each new graduate a beautiful quilt in her favorite colors. She encourages the women to wrap themselves up in them and feel good about what they have accomplished.



Ed Fain, Athens Arts Gallery

An engineer by trade, Ed is a problem-solver. As treasurer of the organization, he took a look at the disorganization that was causing excess work and headaches, and streamlined it. He taught himself QuickBooks and the rest is history. The finances are now organized and up to date, making reports of all kinds readily available. This allows for better oversight, efficiencies, and better decision making.



Mary Sue Measel, Pam's Promise Transitional Housing Corp.

Mary has volunteered as the Financial Director for four years. Her accounting experience along with her belief in the mission of Pam's Promise, led her to make the commitment. In nominating her, Sue Zachary, director of Pam's Promise describes her as committed, faithful, a team player, independent, humble, and as having a positive attitude.



Naomi Mingus, Crossroads Community Nazarene Church

This retired school teacher, who teaches Sunday School and works in the nursery, also tutors grade school children. During the pandemic she went out of her way to stay in contact with the children's parents. She sends the children materials, gifts on special holiday, and lets them know they are loved and missed.



David and Debbie Polley, Youth Service Bureau

The Polleys are dedicated JUMP and Nourish volunteers. They have mentored the same boy for the past five years and have been packing and delivering food for Nourish since its inception in 2014. Hiking, skipping rocks, and swimming are just a few of the things they enjoy doing. They incorporate fun, educational activities to help him with school work such as flash cards, and making a robot and a rocket with him.



Bonnie Rice, Walnut Township Community Organization

This 10-year treasurer comes up with creative ways to raise funds for the organization because she loves the small community of New Ross and wants it to thrive. When the town offered WTCO use of the small community building, she eagerly helped raise the funds for needed repairs, including a new sidewalk. Her volunteerism doesn't stop there, as she started a Senior Citizen's "Hang Out" day, and helps Wednesday evening Youth Group at the New Ross Christian Church.



Tracy Robbins, Mountie Mission, Inc.

The need for community service hours for a college course set this energetic, self-starter into action and more than a year later, she shows no signs of stopping. She cleans, sorts and hangs clothing, helps with the Back-to-School project, picks up and delivers food, clothing and furniture. When Mountie Mission purchased the adjacent building, she power-washed, painted, replaced ceiling lights, moved furniture and more.
Grimble presented each with a certificate and a gift as a token of our appreciation.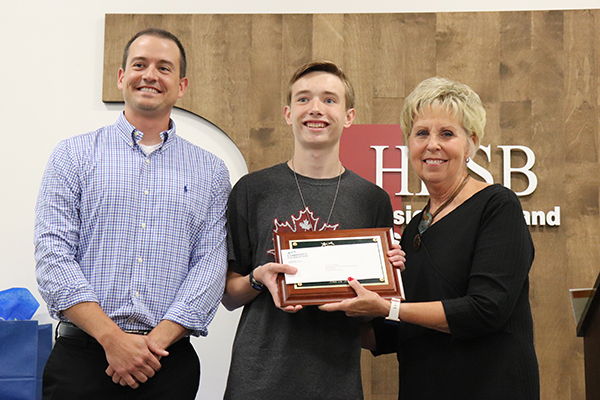 Next was the Peggy Herzog Youth Volunteer of the Year Award, which went to Caleb Chastain for his work with the Youth Service Bureau. Caleb volunteers with the Nourish program and Youth as Resources (YAR). For Nourish, he helps pack food bags restocks the packing tables, helps load vehicles, and has made weekly deliveries to Head Start for more than two years. For YAR, he attends meetings, reviews YAR grant applications, and takes part in the decision making of community service project and events.
Also nominated for the award was Drew Runyan. Drew is a member of the North Montgomery FFA chapter and has served in various ways, including serving as the president. He also serves on the parli pro team as president. He is always polite, a hard worker, and looks to help in every way possible.
Grimble presented Chastain with a plaque commemorating his service and a $1,000 check went to Youth Service Bureau in honor of his service.
Kelly Taylor, MCCF's CEO congratulated both Dr. Roberts and Caleb for being selected this year's volunteers of the Year. In addition, she thanked all the nominees for the great work they are doing with their various organizations. Taylor stated, "We have volunteer board members, volunteer committee members, and volunteers who help with our newsletter just to name a few. While we have recognized a volunteer of other nonprofits in our community for over 25 years, we would like to take this opportunity, on the 30th anniversary of the Montgomery County Community Foundation, to recognize a very special person that, in my opinion, has been the Volunteer of 30 Years for MCCF." Taylor described an individual who has provided guidance to the foundation through trusted legal counsel, is a trusted advisor to many in the community and one who has played a vital role in the growth of the foundation. She then presented the MCCF Philanthropy Award, recognizing his leadership, dedication, vision and selfless devotion for the betterment of Montgomery County, to Rex Henthorn.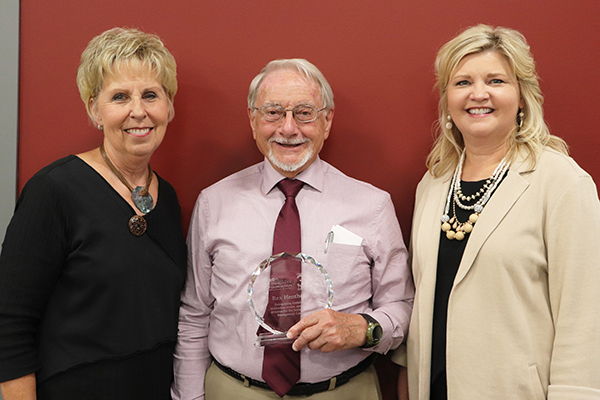 Rex is a 1959 Wabash College graduate and a graduate of Indiana University School of Law. He became associated with the Crawfordsville law firm of Harding and Henthorn in 1962. In 2006, he was recognized as a "Super Lawyer" by Super Lawyers publication. This award identifies the top 5 percent of attorneys in each state as chosen by their peers and through the independent research of Law & Politics. His past involvement in nonprofit work covers several organizations including MUFFY and the First Christian Church Disciples of Christ in Crawfordsville. He served on the Community Foundation Board of Directors from 1993-1999 holding the offices of Vice President, President and a member of the Real Estate Committee. He, along with his wife, established an endowment fund with MCCF in 1993.
President Joyce Grimble wrapped up the accomplishments of 2020, a year in which $1.9 million was awarded in grants and scholarships. A video capturing highlights of the past year was shown and can be viewed here, along with the 2020 MCCF Annual Report.