2017 Volunteer of the Year Awards
Published: May 30, 2017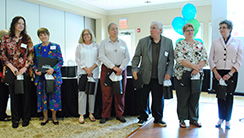 During our recent Annual Meeting, we awarded not one, but two, Volunteers of the Year! It is always a challenging task to determine one winner from so many worthy and deserving individuals who give back to our community with hours and hours of volunteer work. This year choosing one winner was no exception, so much so that we had a tie and awarded two dedicated individuals: Cheryl Fuhrmann on behalf of Dusk to Dawn Bereavement Services and Gail Pebworth on behalf of the League of Women Voters of Montgomery County.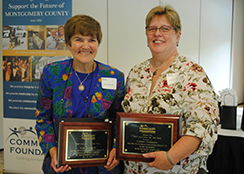 Over the past six years, Cheryl has devoted countless hours to helping people who are suffering through loss. Her passion to restore wholeness to the brokenhearted was the driving force that shaped her vision of a nonprofit into reality. Gail is described by a peer as "undeniably the most well-known face in the League of Women Voters" and performs countless tasks on behalf of the organization, the most visible efforts are the articles she writes for both local newspapers. Gail and Cheryl (l-r) are all smiles as they receive their Volunteer of the Year award. Both organizations represented by these volunteers received a $1,000 grant in their honor.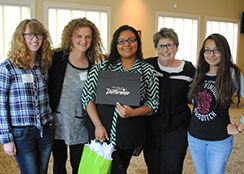 Board President Larry Griffith then presented the 2017 Peggy Herzog Youth Volunteer of the Year award. He stated that again this year it was difficult to make a choice as each of the resumes submitted for the youth nominees were excellent. This year's recipient was Dulce Martinez for her work with the Athenas of Crawfordsville High School. Dulce received a plaque and a $1,000 grant was awarded to the Athenas in her honor.